Important Links Including signing up for Masses
Next collection day for HOPE Community Services will be Sunday, February 7th, 8:30-11:00 am
Dear Friends,
Thank you very much for your continued kindness, support, and generosity to those in need. The Director at Good Counsel Homes responded to our tremendous baby collection by saying "...lots of gratitude from all of us at Good Counsel Homes. We really appreciate everyone's kindness in this difficult time." We will still be accepting donations throughout the week at Nazareth House.
Our next collection day for HOPE Community Services will be Sunday, February 7th, 8:30-11:00 am in the church parking lot in front of the Nazareth Parish Center. Work continues to be scarce for many during these cold, winter months. The number of families seeking food last Wednesday was longer than it has ever been.
Also, HOPE has a need for "Fresh Direct" type bags. These make carrying the groceries home easier for our brothers and sisters in need.
God Bless!
Deacon Jack Shea
Director of Religious Education
Live Streaming of Masses / Direction How to Access Live Stream
FROM THE PASTOR:

Dear brothers and sisters,

I am delighted to inform you that we are initiating a new service for all parishioners and "friends" of SJP Parish.
Beginning immediately, our Masses will be available for live streaming. We have engaged "LocalLive" for this service; the necessary equipment has been installed in our church and we are now "ready to roll".

Those who are ill or unable to attend Mass because of "Covid" concerns, will be able to access the Mass on a regular basis.
The following Masses will be live-streamed:
-9 am Mass (Monday- Friday)
- 9 am Mass - Sundays
-11 am Mass - Sundays
We will also be able to use this service to bring any activity that occurs in the Church to you, at home. Even our parish funerals can be live-streamed, thus enabling your relatives and friends who live far away to be united with you in such an important moment. Other events such as lectures and prayer services can also be available on line.
This new initiative is surely one of the "good things" that has come out of our difficult and trying times. Here at SJP, we believe that this is "our moment" to engage in our faith and community more deeply than ever before.
Many have commented at how much is alive and going on in the parish, in spite of the pandemic. Like St. Paul, we believe that we "can do all things in Christ" who strengthens us. As your pastor, I am surrounded by so many good people who advise and assist me in making wonderful things happen in our community of faith.

Marianna Cilauro, Our Parish Director of Communications, will offer you directions in how to access the live streaming Masses.

Let us continue to be united in prayer, trusting in Mary, Mother of the Emmanuel and let us never forget that God is Good….all the time!

Msgr. Petrillo
------------------------------------------------------------------------------------------------------------------------------------------------------------------------------------------------------------------------------------------
Directions on How to Access/use Live Stream
We will go live 10 minutes before mass/event and still be live 10 minutes after mass/event.
How do you get access to this great new service on your computer, tablet or phone?
Easy!
Keep this link as one of your favorites.
IMPORTANT LINK TO KEEP HANDY:
Just click on it and you will be brought to our landing page at LocaLive.(see screenshot below of the page you will land on)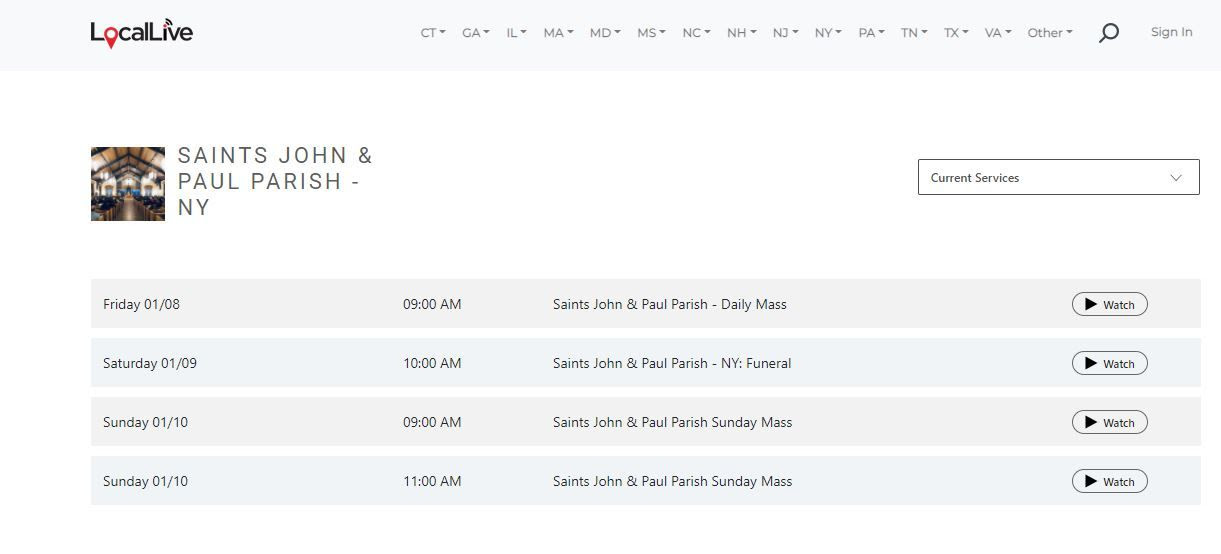 You then have access to "watch" a mass live or view it a later time.
For special events, we may send out special links and we will make you aware when we communicate that event.
For now, for the masses, this is all you do, click on the link that you saved from above and pick which mass you want to watch live or at a later date.
Again, the below are the masses being live streamed.

-9 am Mass (Monday- Friday)
- 9 am Mass - Sundays
-11 am Mass - Sundays
We hope you enjoy this new way of staying connected with our parish!
God Bless you All!
Important: Covid-19 Vaccine hotline
1-833-NYS-4VAX. 1-833-697-4829.
Monday November 23rd Blue Army evening of reflection on Our Lady of Lourdes
Monday November 16th Blue Army evening of reflection on Our Lady of Guadalupe
Monday November 9th Evening of Reflection and Prayer with Fr. Frank on our Blessed Mother Mary
WEEKLY MASS SCHEDULE
Saturday Vigil
5:00 pm
Sunday
7:30 am, 9:00 am (Family Mass), 11:00 am
Monday through Friday
6:45 am and 9:00 am
Saturday Morning
9:00 am
Holy Days
9:00 am and 7:30 pm
SUNDAY MASS LINKS IF YOU CAN'T ATTEND MASS
Prayer to St. Joseph in anxiety and distress
When you are feeling anxious and in a great need, turn to St. Joseph for help!
St. Joseph knows what it is like to be anxious and have a heavy burden. Being the foster-father of Jesus, the Son of God, was not easy!
This and many other reasons make Joseph a perfect intercessor for those suffering from anxiety, or who are in distress. He is well-known for the many miracles that come to pass through his intercession, and can calm the weary heart.
Here is a prayer from Fr. Xavier Lasance that can be prayed by anyone in need of peace and security.
Most faithful guardian of Jesus and spouse of Mary, you see the anguish of my heart. I am disturbed and perplexed. Obtain for me the light of the Holy Spirit and all the help I need to enable me at all times and in all things to fulfill the will of God. I choose you this day, in the presence of Jesus and Mary, as my angel of good counsel, to direct me in all my necessities. Guide me, I entreat you, by the many bitter suffering which rent your tender heart during the course of your mortal pilgrimage. Amen
5pm Sunday Evening Mass to be discontinued starting 1st weekend October

Although more parishioners are returning to the Sunday Mass, none of the Masses are really filled to our "covid capacity" (which is around 100 persons).The Saturday evening and Sunday morning Masses seem to attract between 70 and 90 people at each Mass.

The Sunday evening Mass is poorly attended with less than 30 in attendance. In this regard, the Sunday evening 5PM Mass will be dropped from our schedule during this covid period. If the other Masses begin to fill to capacity, we will reconsider a Sunday evening Mass.
For the time being, effective the first weekend in October, the Sunday evening Mass will be discontinued.
Upcoming Events
Weekday Mass Schedule

Saints John & Paul Parish

Weekday Mass Schedule

Saints John & Paul Parish

Weekday Mass Schedule

Saints John & Paul Parish

Weekday Mass Schedule

Saints John & Paul Parish

Weekday Mass Schedule

Saints John & Paul Parish
View Monthly Calendar